Due to radical changes in terms of new digital technologies and increased customer needs, companies must seize their opportunities in the digital transformation in order to remain competitive. This has been massively reinforced by the COVID-19 pandemic.
Achim Berg, President of the digital association Bitkom, also emphasizes the importance of innovation and comments on the COVID-19 crisis:
"The more digital a company is, the better it will get through the current crisis."
Digital Transformation and COVID-19
At the tean, we have noticed that demand for digitalization solutions has increased significantly since COVID-19. However, many companies lack an overarching digital strategy, new digital technologies and skilled workers. This is also confirmed by a study by Bitkom (2020):
97% of companies saw digitalization as an opportunity in November 2020.

70% of respondents believe that companies with digitalized business models will handle the pandemic better.

One in three organizations fear insolvency as a result of the pandemic.

Almost two-thirds of companies see themselves as laggards in digitalization.

Companies are taking a variety of concrete digitalization measures: in technology, business processes and employees.

Data protection, technical security and a lack of skilled workers are seen as the biggest barriers to digitalization.

The survey shows increased concern about lack of both, financial resources and marketable digitalization solutions.
Definition: What is Digital Transformation?
Digital transformation (from the Latin "transformare" [to reshape]) is an ongoing process of change, often triggered by innovations in digital technologies and customer expectations.
The Massachusetts Institute of Technology's (MIT) definition of the term "digital transformation" describes this very well:
"We define Digital Transformation as the use of new digital technologies to enable major business improvements such as enhancing customer experience, streamlining operations or creating new business models."
Digitization, Digitalization, Digital Transformation, Digital Change and Digital Disruption
The terms "digitization", "digitalization", "digital transformation", "digital change" and "digital disruption" are often used as synonyms. However, they have different meanings.
Digitization is the conversion of analog media such as documents, images, films and music into digital formats. This digital conversion is the technical basis for "digitalization".


Digitalization describes the digital transformation of a company (also "digital business transformation"). Digital transformation involves automating interactions with customers (e.g. customer centricity in the areas of marketing, support, and logistics) and internal processes with the aim of increasing efficiency. In addition, new digital services, products and business models are created.


Explained vividly with an example: In the past, movies had to be rented from video stores. Over time, the films were digitized so that they can now be streamed or downloaded online (digitization). Based on this, streaming platforms such as Netflix emerged (digitalization). In summary, the digitization of movies enabled the digital transformation or emergence of new business models (digitalization).
While digital transformation is a company-specific process, digital change describes a phenomenon that affects society and the economy as a whole.
If this change occurs suddenly and revolutionizes entire industries, the term digital disruption is used. Digital disruption brings about completely new products and services, for example those of Amazon, Airbnb and Uber. The article "Digitale Disruption – sitzen Sie noch bequem?" shows how companies are currently acting and should act in the future with regard to digital disruption.
Causes of Digital Transformation
In our view, a large number of factors are crucial for digital transformation and digital change in business and society. The most important factors are listed below:
Speed of change

Increasing importance of data (Big Data)

New digital infrastructures and technologies, for example blockchain, augmented reality (AR), robotics, Big Data analytics

Disruptive services, products and business models

Increased customer needs

Competitive pressure from established and new companies

Risk of digital disruption within an industry
"56 % of CEOs across all sectors predict a large existing player from another industry will move into their industry..."
We share the view that digital companies like Amazon will increasingly position themselves in other industries. This is already apparent: Amazon not only offers an online marketplace, but also movies, music, groceries, private labels and cloud services.
This makes it all the more important for companies to take steps toward digital transformation and, like the global players, to find their strategic differentiation by means of digitalization.
Players of Digital Transformation

Customers
To a large extent, change comes from customers. Their increased needs and the benefits they perceive are the trigger for companies to continuously rethink and reshape the basis of their business model.
This is also referred to as "customer centricity". It is an approach that focuses on the individual customer as a management variable. Company areas such as strategy, structure, processes, product development, financing, delivery speed and service are to be aligned with the priorities of the individual customer.
According to Statista, more than 60 million people in Germany used the Internet in March 2021. This corresponds to around three quarters of the population.
A survey by Statista (2020) shows that around 70% of Austrians already order via the internet.
Companies
On the one hand, digital transformation can mean enormous potential for growth for companies.
In addition, the digital transformation promotes the emergence of innovative start-ups.
Here, so-called scale-ups have developed, particularly in the technology sector: companies that have achieved an average annual return of 20% in the last three years and employed at least ten people at the start.


Another common term is that of unicorns: start-ups with a market valuation of over one billion US dollars.

Bitpanda, Austria's first unicorn

, comes to mind here.


Another form of start-ups includes moonshots, a term often used in Silicon Valley. Borrowing from John F. Kennedy's moonshot speech in 1962, moonshots are companies with particularly ambitious and innovative visions and often disruptive technologies. At the tean, we refer to such innovative and disruptive companies as rockets and develop them for and with companies as part of our service Digital Business Development.
On the other hand, traditional companies are facing major challenges and are getting into trouble. Nokia and Kodak are well-known proofs of the effects of digital disruption.
Such companies, which have been successful for decades, are being replaced by disruptive innovations from other players (competitors), which fundamentally change industries and necessitate an increase in new markets. This phenomenon is referred to as "The Innovator's Dilemma" (Clayton Christensen, 1995). Examples of this include Uber and Airbnb.
It should also be noted that not only entire companies but also individual departments such as production, marketing and sales, customer service, human resources and logistics can be digitalized.
Digital Technologies
Digital technologies are another key driver of digital transformation. The focus here is particularly on efficiency, for example the efficiency of processes.
Some key technologies are illustrated below with the help of examples.
Blockchain is a continuously expandable list of data records, called "blocks", which are chained together using cryptographic methods. Each block contains cryptographic information of the previous block, transaction data and a timestamp. This enables, for example, decentralized accounting of logistical transactions without central mediation. A whole range of conceivable use cases are related to so-called smart contracts: computer-controlled transaction protocols that execute contract terms securely and autonomously. For example, when a container ship arrives at the port, additional actors could be automatically assigned to unload it through smart contracts.
Augmented Reality describes the computer-based enhancement of reality perception (in contrast to virtual reality, which describes reality perception in a virtual environment).
Augmented reality will revolutionize picking processes. Pickers will be able to see all the data they need to perform their tasks directly in their field of vision by means of data goggles (pick by vision). The decentralized provision of knowledge via centrally recorded manufacturing know-how will also be made possible when equipping assembly and service workplaces in industry.
Robotic Process Automation (RPA) makes it possible to automate administrative and scheduling processes such as planning, customer invoicing, invoice verification, and many more. Machine learning algorithms and other methods of artificial intelligence (AI) support or replace the clerk or scheduler in standard tasks. The objective is always to increase efficiency, reduce errors and better recognize correlations.
Recognizing interrelationships in large data collections and using them leads to new application areas. Big Data Analytics enable new applications for decision support and decision automation. For example, methods can support prediction (predictive analytics) or even identify patterns that can be useful for process improvement or for addressing customers.
Other new technologies include cloud services, Internet of Things (IoT) and 3D printing.
Nation
The nation is another actor influencing the digital transformation.
In 2014, the German federal government published its "Digitale Agenda 2014 – 2017". The measures listed there are intended to exploit the opportunities offered by digitalization in Germany.
In Austria, the Digital Roadmap Austria (2016) was published in this regard, in which various guiding principles, measures and strategies were named in order to drive forward the digital transformation in companies and the digital transformation in society.
Despite these efforts, the state often slows down digital innovation processes. The digital transformation should be driven forward more quickly and vehemently by the state: in education, in administration and in business, among other areas. Innovative measures should be increasingly promoted in companies. This is the only way Austria and Germany can remain or become internationally competitive.
Science
The field of science is also a driver of the digital transformation. On the one hand, companies and the nation benefit from scientific findings (see Industry 4.0). On the other hand, the research and development efforts of companies also generate added scientific value. Consider, for example, the contributions of Google in the field of artificial intelligence.
Students are increasingly equipped with knowledge around digital transformation, which ultimately benefits companies.
We, too, are constantly on the lookout for new employees in the areas of Business Development and Data Science. Click here for our vacancies.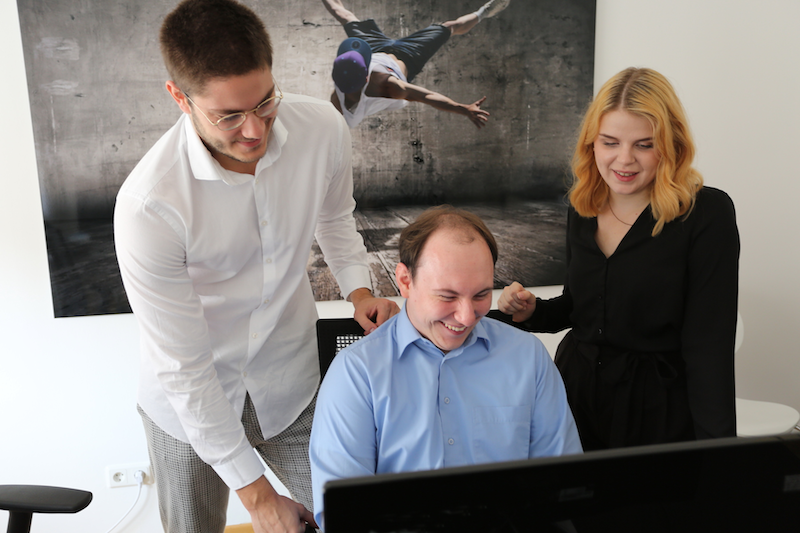 Dimensions and Effects of Digital Transformation in Companies
The first dimension – the Value Creation Model – involves the creation of new products and services. This process changes as a result of new digital technologies.
This increases the efficiency of processes, which saves time, reduces costs, and frees up employees.
The second dimension is the Value Proposition Model. The focus is on offering new products and services and changing revenue models (in the direction of subscription and licensing models).
Due to the better scalability of digital products and services, more revenue can be generated in the long term. In addition, new sales channels offer opportunities.
The third dimension – the Customer Interaction Model – relates to interaction with the customer, which has changed fundamentally as a result of the large number of electronic channels.
Customers' needs can be analyzed better on the basis of data, enabling them to be addressed in a more targeted manner (targeted marketing).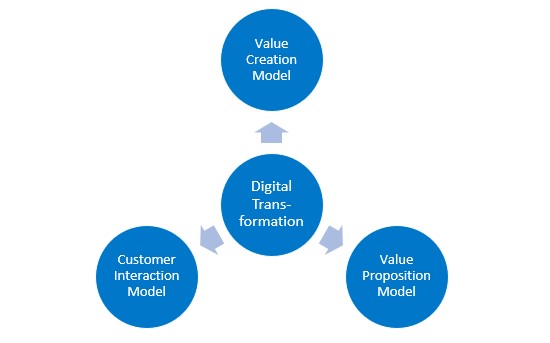 It should be noted that the dimensions of digital transformation can be applied not only to companies, but also in the fields of politics, education and medicine.
Successful through Digital Transformation
Digitalization is independent of industry and affects SMEs just as much as large companies.
The degree of digital maturity varies from company to company and is usually independent of industry.
This is also shown by the study "The Digital Advantage: How digital leaders outperform their peer in every industry" by Capgemini Consulting and MIT Sloan Management, for which 391 companies were surveyed. The fact that digital maturity is independent of industry is summed up in one sentence:
"Digital maturity matters. It matters in every industry."
It should be emphasized that the study is not just theory, but analyzes the financial performance of the companies and links it to the degree of digital transformation.
Capgemini and MIT distinguish between two dimensions of digital maturity:
Transformation Management Intensity: This describes the leadership qualities required to drive digital transformation in an organization.


Digital Intensity: This refers to the investment in technology to optimize internal processes.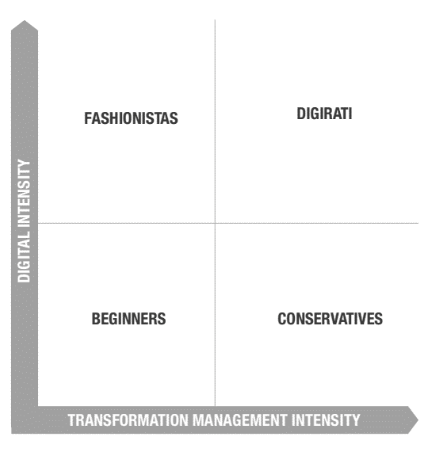 Based on this, companies are divided into four categories of digital maturity:
Beginners: The digital beginners are not yet taking advantage of the opportunities offered by digital transformation.
Fashionistas: These companies are experimenting with technologies, but lack a digital strategy.
Conservatives: The digitally conservative companies pursue a unified digitalization strategy, but they are skeptical of new trends and technologies.
Digirati: The last group of companies includes the so-called digirati, who understand how digital transformation is successfully implemented by means of an overarching vision and the appropriate technology. By continuously investing in digital projects, they develop competitive advantages.
"Few firms have positioned themselves to capture the real business benefits. Our research points to a real 'digital advantage' to those that do."
Competitive Advantages through Digital Transformation
The study shows that digirati – fully digitalized companies – have several advantages over competitors. According to the study's data, digirati
are 26% more profitable than their competitors,
generate 9% more revenue based on their employees and physical assets, and
receive 12% higher market valuations.
Consequently, the impact of digital transformation can be described as very positive.
5 Barriers to Digital Transformation in Companies
There are a variety of factors that complicate the digital change process in companies. The following is an overview of the most significant barriers we see in companies.
One challenge is that too little importance is attached to digital transformation.


The digitalization project is often inadequately planned as a result.


Managers and/or employees reject the digital transformation. In addition, there is often a lack of communication.


There is a lack of resources: both financial and technological.


Although digital transformation projects are being worked on, too little attention is being paid to the two key factors of customer centricity and efficiency.
10 Success Factors and Tips for Digital Transformation in Companies
The barriers are countered by numerous factors that can lead to the success of digital transformation in companies. Some of the success factors are listed below:
Customer centricity must be the focus of all considerations.

The efficiency of processes is another key factor. To this end, the company's own technologies should be analyzed and, if necessary, replaced by modern technologies.

Digitalization, innovation, communication and continuous learning should be firmly anchored in the corporate culture. A clear digital strategy should also be in place.

Digital transformation must be driven by executives.

Employees should be continuously informed and involved in development. In addition, their digital competence should be trained.

A reliable partner is needed to guide the company through the implementation of digital transformation.

New positions such as the Chief Digital Office or Chief Data Scientist should be created in the company to act as an interface between the organization and the partner and to manage the digitalization project.

At the start of the project, the company's initial situation and digital use cases should be defined. Based on the problems and customer requirements specified by the companies, ideas are to be developed in joint workshops.

These ideas are tested as Minimum Viable Products (MVPs). If successful, these are further developed into business models. The goal of each company here is to develop a disruptive business model in order to become a pioneer in an industry.

Agility – the "best kept management secret in the world" (Steve Denning) – is of great importance throughout the process. Instead of following a top-down approach, goals, methods and business model should be continuously adapted to new market requirements. Speed is a crucial factor here.
At this point, we would like to refer to the article "Catch the ball – managers in the age of digital transformation", which shows the five factors through which managers can lead their companies to success in the digital transformation and what they have in common with wide receivers from American football in this context.
How Can Digital Transformation Be Implemented in Companies?
"There is nothing so useless as doing efficiently that which should not be done at all."
This quote from economist Peter Drucker shows that a reliable partner is needed to analyze which steps need to be taken and how, in order to ensure the implementation of the company's digital transformation.
Suitable partners for this are, for example, digitalization consultancies (such as the tean), which are dedicated to the digital realignment of companies. Only in existence for a few years and brought into the spotlight by the COVID-19 pandemic, these will experience great growth in the coming years.
Future Outlook
Based on the above arguments, we believe that digital transformation will become increasingly important. COVID-19 has additionally accelerated this development.
The market research company IDC (2020) confirms this in its article 10 forecasts for the development of digitalization up to 2023. Here it becomes clear that digital transformation is not just hype, but a megatrend that will accompany us in this age.
Conclusion
Digital transformation is a basic prerequisite for success in the coming years. There will hardly be an industry that does not turn to the topic of digital transformation: consequently, the question is not if, but when!
We believe that every company can become an Airbnb or Uber of its industry, as sooner or later every market will become a digital market. Addressing the issue of digital transformation now and investing in digital technologies, services, products and business models can only be beneficial.
Now is the time to position yourself as a digital pioneer in your industry. Digital is real!
We look forward to feedback on our article by e-mail to an office@the-tean.com!
Are you looking for a suitable partner for digital transformation?